Last weekend I went to my local library to pick up a book about writing style which I had placed on reserve recently. The reserve section in my library is located near the librarians desk, in its own little space against a wall, with no need to visit the actual stacks to get your book. However – since it's a library after all and I was in no hurry – I thought I would have a quick browse to see if any other books would catch my attention that day, even though I already have piles of them at home fresh and waiting to be enjoyed.
As I walked up to the section on writing, placed face out on a display shelf was a tiny red book with what I think is one of the best titles to ever have crossed my path "Notes on a Public Typewriter". Directly under that bold black title was an image of one of these notes which brought an automatic smile to my face 'there are so many birds'. Considering my Masters of Art in the Public Space research was focused on two very specific things, being public text and birds, it felt like a tiny bit of fate had intervened in my day with this particularly enchanting book sitting at perfect eye level just waiting for me to take it home.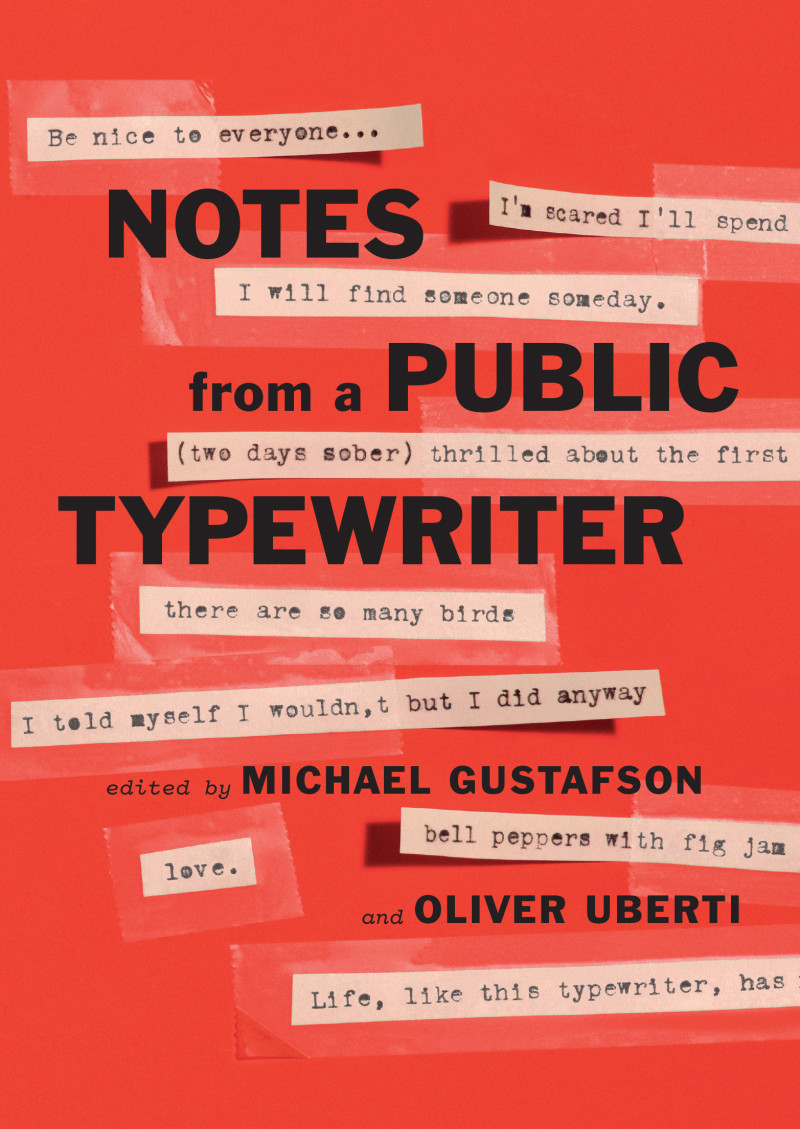 It has been sitting on my coffee table for almost a week, and tonight I finally had a chance to pick it up with the intention of having a quick browse while I waited for my dinner in the oven. Except that instead of doing that I read the book non-stop front to back, not even pausing while I ate. It has been a long time since a non-fiction book has caught my attention this way. I didn't want to put it down, and in fact I wish that it had been longer. Written and edited by Michael Gustafson the owner of the bookstore Literati where this public typewriter -actually typewriters – exist, this book strikes an adept balance between modest yet charismatic mini essays, anecdotes, and of course a selection of notes from the typewriter itself. It also contains a smattering of images, and in the center of the book a page which discusses the decision to hire an artist to paint 15 of these 'notes' on an external brick wall of the bookstore as a way to (and I quote) 'share words written by the community with the community'. This wall has become a local must-visit, one of the most photographed places in Ann Arbor according to the bookstore.
The many different musings included in this book gives the impression of looking into the minds of many many different people. This book is a journey through a kaleidoscope of happy, sad, naive, poetic, mysterious, romantic. It shows that while we are all different as humans, we also all have the same hopes and fears and internal dialogues that perhaps we just want to share with someone, even if that someone is a blank piece of paper sitting in a typewriter in a bookshop in Michigan. Some of these notes are taped to a wall behind the typewriter, some are kept in a filing cabinet, and thankfully a variety haven been shared with the world in this book.
The idea of a public typewriter made available for anyone to write anything they wish is something which just speaks to me. It speaks to my love of writing, my interest in communication and its place in community, and is at heart a contemporary public text-art practice without even meaning to be so (and of course turned into a paint-based text artwork). In fact now I feel inspired to take my own typewriter out of its case – having not used it since my graduate art show in 2016.
So next time you happen to be in Ann Arbor, Michigan, make sure you give this local bookstore a visit. I know I will!
You can visit the Literati own blog here: https://www.literatibookstore.com/blog
Learn more about their story here: https://www.literatibookstore.com/store-info
Follow them on Instagram here: @publictypewriter and @literatibookstore